Download our songs now! - Check the mp3 page.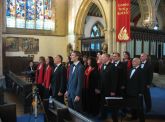 The Sarah Sheppards in London - Concert in St Mary's Church, Stoke Newington -
Concerts in Bologna - Sarah Sheppard Ensemble and Choir
Saturday 21 June 2019 - 9pm - Concert of the Sarah Sheppards with the Cantiamo choir from München (Germany) - Evangelical Methodist Church - Via Venezian 1 (near Via Ugo Bassi) - Bologna
Our CDs are on sale now! - Check the Recordings page.