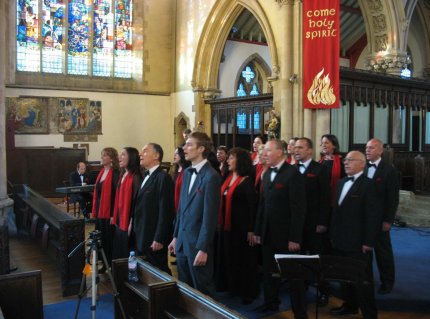 Our videos
On 22nd May 2010 the Sarah Sheppards gave their second concert in the UK. Here they are in St Mary's New Church, Stoke Newington, London, performing four very well known numbers: When the Saints Go Marching in, Go Down, Moses, Nobody Knows the Trouble I See and Swing Low, Sweet Chariot. Before singing this last one they tell the story of Sarah Sheppard: "Sarah Hanna Sheppard was a negro slave and she lived, with her little baby girl, in the United States of America, in the state of Tennessee…".
St Mary's New Church
Here are some photos of St Mary's New Church, Stoke Newington, London, where the Sarah Sheppards performed their concert. The church was built in 1858 by Sir George Gilbert Scott. The impressive and monumental spire was completed in 1890 by his son, J.O.Scott. The stained glass, bomb damaged, was lost in 1940 and replaced with a new one in 1960.
The Sarah Sheppards
And here are the Sarah Sheppards rehearsing and during a break before the concert. Most of the music they perform was written by Sergio Turra and Oreste Palamara, the two Directors of the group.